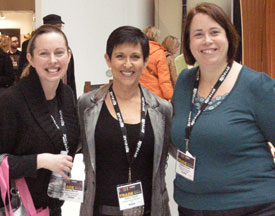 Congratulations to Staging Diva Graduate Heather Cook of Rooms in Bloom Home Staging & Design Inc. on being named Canada's Professional Home Stager of the Year at the Real Estate Staging Association convention in January.
Heather and her business partner, Alana Merritt, both completed the Staging Diva Program two years ago, and it's been a delight to watch their business grow since that time.
Back then Heather wrote, "We appreciate your honesty and that you approach home staging as a business and not as a cute women's hobby. This is much more realistic and helps prepare people for the realities of running their own businesses. We had been stagers almost a year before taking your program and we weren't disappointed. Our business has gone from 'nothing' to being called consistently by clients and Realtors in our area."
Fast forward 2 years and their company is firmly established. Their 2011 Home Stager of the Year award is a recognition of the quality of their home staging.
I really enjoyed sitting down with Heather and Alana at the 2011 Interior Design Show and hearing about what makes their partnership work so well.
Did you know?
Staging Diva provides a significant discount on training for partners from the same company.
> Email to learn how to save when you have a business partner!